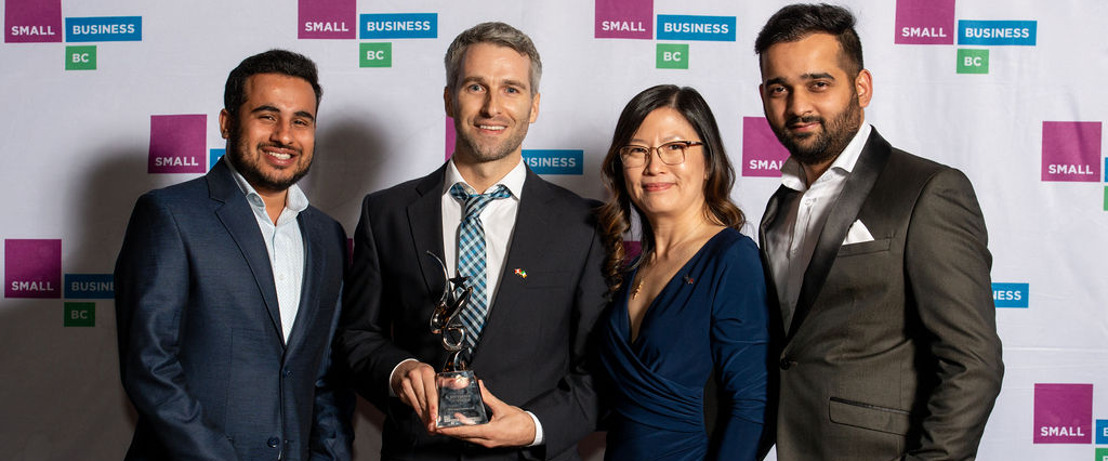 TOP 10 SEMI-FINALISTS ANNOUNCED FOR 17TH ANNUAL SMALL BUSINESS BC AWARDS
December 11, 2019 – British Columbia
Small Business BC, the province's premier resource for entrepreneurs, and Canada Post asked the public to nominate their favourite small businesses across British Columbia for this year's 17th Annual Small Business BC Awards. Over 611 nominations were received, with each nominated business tasked with gaining as many votes as possible before the deadline. The ten businesses from each category who received the most votes have now moved forward as semi-finalists.
The Top 10's have small businesses from across British Columbia with representation including a drone company in Fort Fraser to a kefir business in Castlegar, a vineyard in the Comox to a food truck in Surrey where you can literally eat the dishes. This years nominations show an eclectic mixture of businesses, and the resourcefulness of the BC small business community.
As the leading small business awards competition in British Columbia, these awards not only recognize the outstanding achievements of local entrepreneurs, they also provide a powerful platform for future success. With eight different categories, here are the Top 10 semi-finalists for each:
PREMIER'S PEOPLE'S CHOICE
Presented by the Province of British Columbia
Airrays Drone Service, Fort Fraser
Boteco Brasil, Vancouver
Catoro Café, Vancouver
Elegant Studios, Surrey
Flax Sleep, Vancouver
Griottes Polyglottes, Vancouver
Meikle Studio, Salmon Arm
Reuse Bags, Port Moody
Skwalwen Botanicals, Brackendale
Sue's Clothesline, Creston

BEST COMMUNITY IMPACT
Presented by Vancity
Blissed Out Yoga and Fitness, 100 Mile House
Catoro Café, Vancouver
Ginger Jars, Gibsons
Guru Nanaks Free Kitchen, New Westminster
Happy Gut, Castlegar
IRL Construction, Vancouver
New Tew Yew, West Kelowna
Nutmeg and Co, Vancouver
Rio Theatre, Vancouver
Squamish Connector, Squamish
BEST COMPANY
Advanced Storage Centres, North Vancouver
ASAP Office Supplies, Langley
Duttons Co. Real Estate, Victoria
Evision Media, Abbotsford
Foxy Box Wax Bar, Victoria
Green Chair Recycling, Vancouver
Harbour West Consulting, North Vancouver
Salt N Sear Catering, Port Coquitlam
Sportball Vancouver, Vancouver
Twirling Umbrellas, Kelowna
BEST EMPLOYER
presented by ADP

40 Knots Winery, Comox
Business Max Consulting, Nanaimo
Emelles Catering, Vancouver
Geoscan Subsurface Surveys, Burnaby
Granted Consulting, Vancouver
Grizzly Force, Vancouver
Kleiner Services, Burnaby
Propel Solutions, Vancouver
Withinus Natural Health, Burnaby
Woodside Enterprises, Chilliwack
BEST IMMIGRANT ENTREPRENEUR
Presented by BDC
Accuracia Security Patrol Limited, Surrey
Amiante Environmental Consulting, Abbotsford
High Beam Dreams, Gibsons
i4C Innovation, Trail
Liquids + Solids Culinary Innovations, Vancouver
Magnum Construction Services Inc., New Westminster
Mansouri Immigration Firm, West Vancouver
Tangrace Construction Group, Vancouver
The Velvet Underground, Whistler
Yellowbean Total Clean, Gibsons
BEST INNOVATION
Presented by Western Economic Diversification Canada

Advanced Quality Systems, Vancouver
Apollo Exchange, Vancouver
Aux Box Inc., Nanoose Bay
Ay Lelum The Good House of Design, Nanaimo
Goose Insurance, Vancouver
Grizzly Force, Vancouver
Kinzoo, Vancouver
Pick Eco Refills, Chilliwack
Reusable Bubble Tea Cup, Vancouver
Wordzite Security, Port Moody
BEST MARKETER
Presented by Small Business BC

Ay Lelum Good House of Design, Nanaimo
Culture Co., Chilliwack
Culture Kefir Co., Richmond
Element IQ, Coquitlam
Emelle's Catering, Vancouver
Hunter Browns, Richmond
Rio Theatre, Vancouver
Shackmaster Home, Lantzville
Summit Tiny Homes, Vernon
Urban Bella Marketing, Vancouver
Wize Vodka Soda, Vancouver
(As there was a tie for 10th, we have included 11 businesses in this category)
BEST YOUTH ENTREPRENEUR
Presented by Kwantlen Polytechnic University

Droplet Home Goods, Vancouver
Eat the Dishes, Surrey
Elevate Ultimate, Burnaby
Finch the Label, Vancouver
Flourist, Vancouver
Mismack Clean Cosmetics, Salmon Arm
Pamper Day Spa, Salmon Arm
Raven Hair Salon, Vernon
Sea to Sky Sourdough, Whistler
Sweet Lavations, 108 Mile Ranch
NEXT STEPS
The Top 10 Semi-Finalists will be given just less than one month to provide an expert panel of judges a detailed application outlining why they deserve to win the award they've been nominated for. These applications will be used to decide the Top 5 Finalists, who will be officially announced on January 20, 2020.
The winners of each category will be announced at the Small Business BC Awards Gala, sponsored by Canada Post, held at the Vancouver Convention Centre on February 21, 2020. As part of the SBBC Awards, in partnership with the Government of British Columbia, SBBC will also celebrate the Open For Business Awards during the evening, highlighting the small, medium and large communities who have supported the growth of small businesses through regional initiatives. Tickets are on sale now at https://sbbcawards-2020.eventbrite.ca
Small Business BC Award winners will receive the Premier's Prize in the amount of $1,500 cash, a one-year All-Access Pass to Small Business BC education and experts, and the honour of being named a top B.C. small business. More details about the Small Business BC Awards can be found at http://sbbcawards.ca/
---
QUOTES
"It's fantastic to see small businesses nominated and recognized from every corner of B.C., not only for their success but also for the positive impact they are making in their local communities and the global economy. We're very excited to see who comes out on top" Tom Conway, CEO, Small Business BC
"Canada Post is pleased to once again celebrate the success of small businesses and entrepreneurs through our involvement in the Small Business BC Awards. We look forward to sharing their stories of success and helping to support the growth of these businesses." – Danielle Doiron, General Manager of Marketing at Canada Post
---

About Canada Post Canada Post is Canada's primary postal operator, providing service to more than 16 million addresses and delivering nearly 8.4 billion items in 2016. They are committed to providing innovative physical and electronic delivery solutions that create value for customers, small business and Canadians.