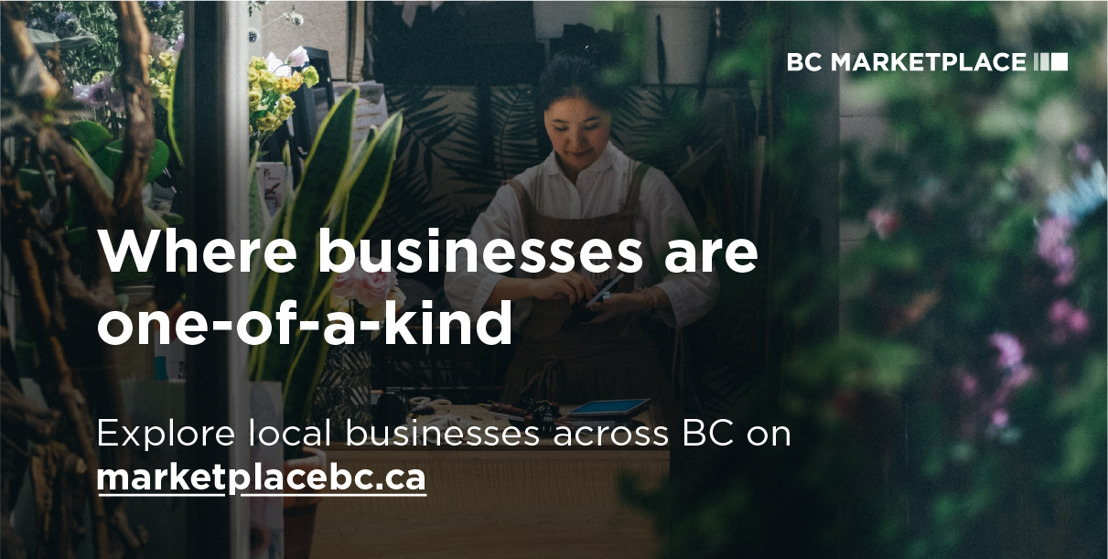 The BC Marketplace is helping holiday shoppers while strengthening communities
November 24, 2021 - British Columbia
British Columbia – Small Business BC is encouraging shoppers to think of meaningful ways to support our communities across BC this holiday season, by discovering local products and services on the BC Marketplace; an online hub built to support one-of-a-kind small businesses.
The BC Marketplace's holiday campaign encourages shoppers to think about what's available in their community as they purchase presents over the coming weeks. An initiative from Small Business BC, the BC Marketplace helps increase small business sales across the province by allowing consumers to browse over 3,300 BC-based products and services from 230 communities.
"BC's businesses are one-of-a-kind, and that's why the BC Marketplace exists; to boost awareness of the creative and talented entrepreneurs who call our province home," says Tom Conway, CEO of Small Business BC. "Our goal is for shoppers to visit the BC Marketplace and be amazed by all the awesome products and services they didn't know existed. We want them to be inspired to spend with small businesses in their own community."
As Canada starts to recover from COVID-19, BC's small business owners are still feeling economic pressure and need the continued support of their communities this holiday season. To inspire and encourage shoppers to look local first, the BC Marketplace has launched a series of holiday shopping guides and inspirational videos featuring BC entrepreneurs.
"When you're running a business and doing something you love, it's just a different feeling of gratefulness. - Sadaf Rahimi, Charcuterie Vancouver (Vancouver)
The holiday shopping guides are offered for every region of the province and aim to provide inspiration, while helping BC residents to find the perfect gift. When thinking of gifts for friends and family, choosing to spend locally will make all the difference.
All BC entrepreneurs are invited to create a profile on the BC Marketplace as a free and simple way to start attracting new customers to their businesses. The BC Marketplace helps entrepreneurs to get online with a business profile that boosts their brand awareness and increases searchability. Even businesses that already have an online presence will benefit from exposure to new shoppers on the BC Marketplace.
First launched in 2020 with the support of the Province of BC and the Government of Canada through Pacific Economic Development Canada, the BC Marketplace continues to grow with support from Fortis BC and other community partners. The platform has grown to attract almost half a million views, with shoppers exploring local, rather than purchasing from overseas. Searchable by product, service and across the communities of BC, the BC Marketplace can help any community interested in creating a local shopping hub by contacting the team today. To search for BC businesses or to create a business profile on the BC Marketplace, visit marketplacebc.ca.
Mainland Southwest Holiday Gift Guide
The BC Marketplace has created a gift guide for the Mainland Southwest to inspire the holiday shopping season. Take a look!

BC Marketplace
3,300+ BC businesses from 230 communities
Dylan Young BC Marketplace Program Manager, Small Business BC
MEDIA KIT