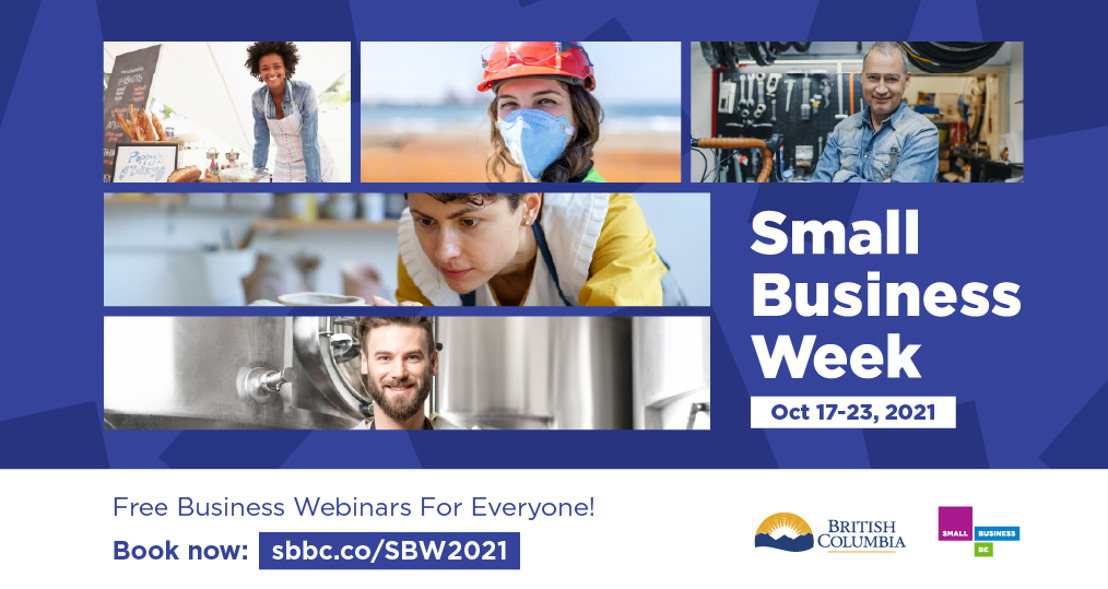 Small Business Week 2021 at SBBC
Small Business BC is joining the national celebration of Small Business Week 2021 with a variety of FREE educational options designed to help business owners learn new strategies, grow their businesses, and navigate the challenges posed by COVID-19.
Each year, Small Business Week offers an invaluable opportunity to celebrate Canada's hard-working entrepreneurs and the impact they have upon our local communities. With this year's event running from October 17-23, Small Business BC and the Province of British Columbia are partnering to offer free access to webinars throughout this week-long national celebration.
A new event we're hosting this year that we wanted to highlight is a fun and interactive Digital Meetup, titled Finding Your Community Online. Join Darryl Julott, Managing Lead of Digital Main Street, and Dylan Young, Program Manager for SBBC's BC Marketplace, as they share their experience in building online communities. Contribute to this discussion on what community means to your business, and share your own small business community building tips.
To make the most of our Small Business Week offering, we've packed our schedule with some of our most popular webinars. Places are limited, so we encourage you to book as early as possible. We will be activating a waitlist once sessions reach capacity.
Registering for these sessions is simple and FREE, and all can be found at sbbc.co/SBW2021. Individual webinars include:
How it works
Website: https://smallbusinessbc.ca/article/small-business-week-2021-at-small-business-bc/
Where: Access online via webinar province-wide
When: October 17 to 23
Who can register: Webinars are available to everyone in British Columbia. Whether you are looking to start or grow your business, there is a webinar for you!
About Small Business BC
Small Business BC provides entrepreneurs with the information and guidance necessary to build a solid foundation for their business. Through a wide range of products, services, education and resources there's a piece that fits with every business. No matter what stage or what skill level, when an entrepreneur finds themselves asking "How do I…?" Small Business BC is the one to call.