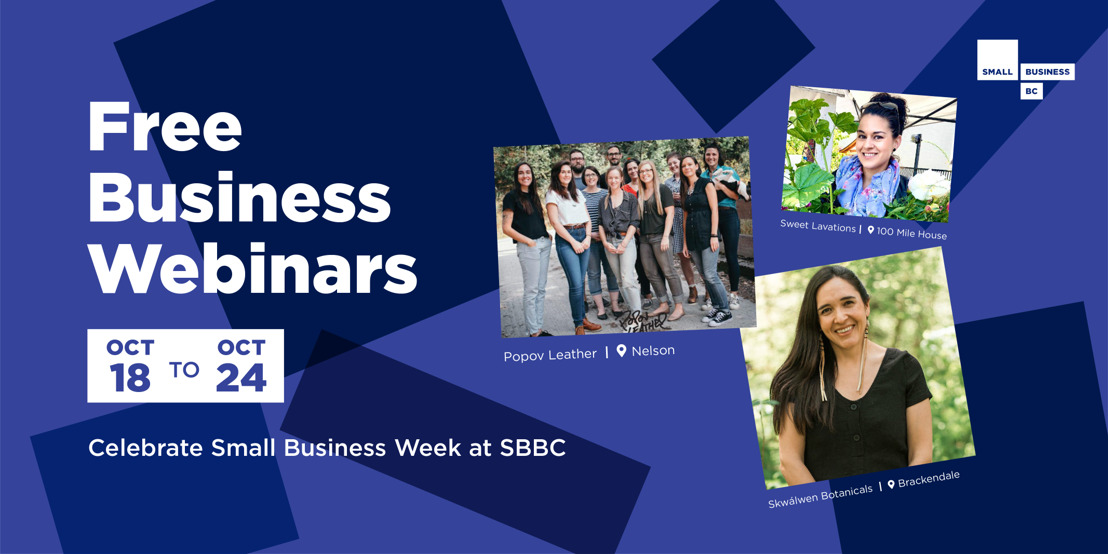 Small Business Week 2020 at Small Business BC
Small Business BC is joining the national celebration of Small Business Week 2020 with a variety of FREE educational options designed to help business owners navigate the challenges posed by the COVID-19 pandemic.
Small Business Week has been celebrated across Canada since 1981. It is a time to recognize the contributions entrepreneurs and small business owners make toward the economy and our local communities. We believe now, more than ever, is a time to celebrate these invaluable contributions.
That's why Small Business BC, the Province's leading resource centre for entrepreneurs, is offering a week of FREE access to our educational webinars from October 19th to 23rd. We have scheduled 13 webinars for this week, covering a range of topics designed to help business owners thrive in our COVID economy.
Registering for these sessions is simple and FREE, and all can be found at www.smallbusinessbc.ca/small-business-week. Individual webinars include:
Staying Resilient During COVID-19

Market Research: Emerging Trends in Consumer Behaviour

Smart Marketing in a Changing World

Blogging to Promote Your Business

How to Launch Your Product in Today's World

Ergonomics in the COVID Era: Working from Home and Beyond

Decolonizing, Indigenizing and Reconciling Entrepreneurship

Google Strategies for Local Business

How to Stay Relevant in Uncertain Times
Quote from our CEO
"Across British Columbia, small business owners play an invaluable role in our daily lives. Unfortunately, this year has presented these individuals with extraordinary challenges. That is why Small Business BC is pleased to continue our tradition of providing sponsored educational resources during Small Business Week. These webinars and advisory sessions are designed to help entrepreneurs navigate the months ahead and emerge stronger. We encourage our community to take part and discover the knowledge and skills that will position them for future success." – Tom Conway, CEO, Small Business BC.
How it works
Website: www.smallbusinessbc.ca/small-business-week
Where: Access online via webinar province-wide
When: October 18 to 24
Who can register: the webinars are available to everyone in British Columbia. Whether you are looking to start or grow your business there is a webinar for you.
About Small Business BC
Small Business BC provides entrepreneurs with the information and guidance necessary to build a solid foundation for their business. Through a wide range of products, services, education and resources there's a piece that fits with every business. No matter what stage or what skill level, when an entrepreneur finds themselves asking "How do I…?" Small Business BC is the one to call.