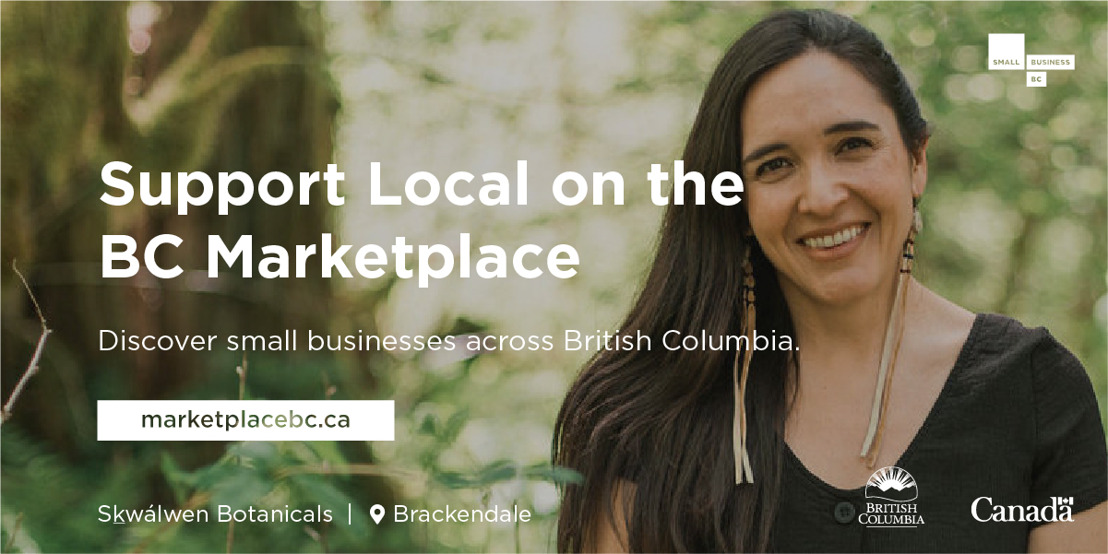 Small Business BC Launches Online Marketplace to Support Entrepreneurs
December 17, 2020 - British Columbia
British Columbia – To help BC small business owners promote their goods and services as they continue to face the impacts of COVID-19, Small Business BC, has launched the BC Marketplace, a digital platform featuring small businesses across the province. The BC Marketplace is made possible with the support of the Government of British Columbia and the Government of Canada.
The BC Marketplace aims to simplify the "shop local" experience by making it easy for BC residents to discover small businesses across the province. At the same time, the marketplace offers entrepreneurs the opportunity to increase their visibility and gain new customers.  
"Small businesses continue to be hit hard by the impacts of COVID-19, so we are doing everything we can to support them," says Tom Conway, CEO of Small Business BC. "We want to showcase BC entrepreneurs and encourage the public to buy local, especially during the holiday season. The BC Marketplace connects shoppers with products and services, while helping business owners discover customers who want to support the BC economy."
The BC Marketplace allows entrepreneurs in every industry to upload their business information and product images, as well as offer special promotions. For businesses with a website, the BC Marketplace will provide relevant site links, helping to boost online presence. For businesses not currently online, the BC Marketplace offers space to create a digital footprint, making it easier for customers to discover them. Small Business BC encourages all entrepreneurs to take 10 minutes to create a free BC Marketplace profile.
"I like to shop at local small businesses because it puts money back into my local community," says Jill Schuler, owner of The Stitchery in Port Moody, BC. "When people do business with me, they put food on my table and I buy that food from local businesses. It's about the community too. When I go to my local coffee shop, that's a small business. They know my name; they know my order and that matters to me. Those relationships matter, and the only way we can sustain them is to continue shopping locally."
The BC Marketplace also highlights regional markets, dedicated to helping local residents discover the diversity of small businesses, right in their backyard.
"Ultimately, we'd like the BC Marketplace to be the first stop for anyone looking to buy local. It's easy enough to go online and order from the large sales platforms, but we believe there is so much more to discover in our province and the marketplace provides an opportunity to find those hidden gems," says Conway.
To search for BC businesses or to create a business profile on the BC Marketplace, visit marketplacebc.ca.
Small Business BC is proud to be the number one resource for small businesses, supporting entrepreneurs as they reopen their doors and get back to business. For further help, visit www.smallbusinessbc.ca or speak with an advisor by calling 1-800-667-2272.
About the BC Marketplace
There are over 1,600 businesses from across BC currently featured - including 7 regional landing pages so you can find businesses near to you.

The BC Marketplace was launched in April 2020 by Small Business BC to give immediate support to small businesses during COVID-19 when consumer shopping trends shifted online.

A free tool to support local small businesses - free for small businesses to register, and free for anyone using.
Relevant Data
Sara Couper Communications, Small Business BC
About Small Business BC:
Small Business BC is here to help British Columbia's entrepreneurs grow successful and sustainable businesses through expert business advisors, educational services and easy-to-use free tools. For anyone who's a business owner, or thinking of starting a new business, we're here to help.