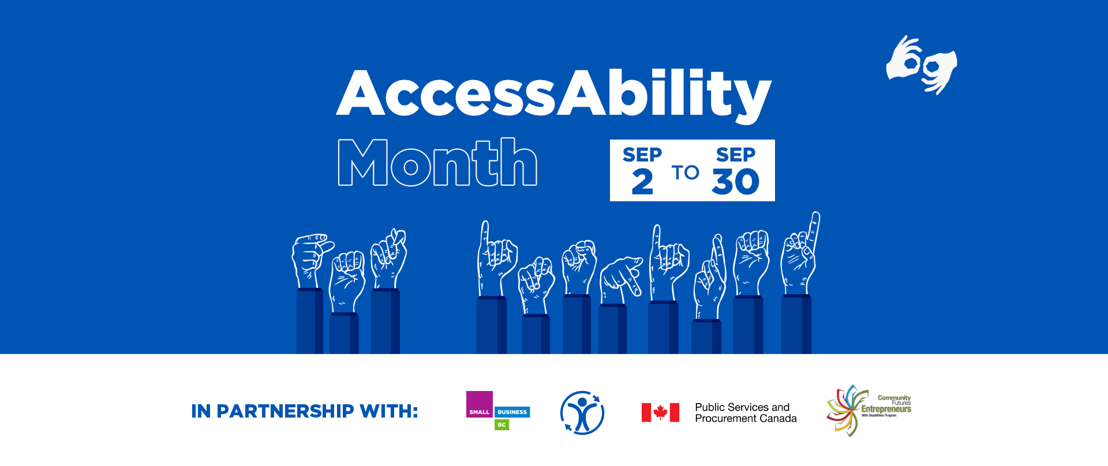 September is AccessAbility Month at Small Business BC
August 13, 2020 - British Columbia
Did you know: 90% of consumers prefer companies that employ people with disabilities. In fact, embracing an accessible and inclusive workplace isn't just good for business, it can also help improve culture and increase staff retention.
September marks Disability Employment Month in BC. It's a time to celebrate and recognize the important contributions people with disabilities make in the workplace. Small Business BC is marking the occasion by hosting AccessAbility Month, a month of business education featuring ASL interpretation and closed captioning.
Delivered in partnership with The Presidents Group, with the Office of Small and Medium Enterprises and Community Futures Entrepreneurs with Disabilities Program, AccessAbility Month features 17 webinars, all with ASL interpretation and closed captioning. A variety of topics will be covered, from business planning, to financial management and market research. Including a dedicated webinar hosted by the Presidents Group - Funding and Resources for Inclusive Employers.
In keeping with the current public health guidelines, all educational sessions will be delivered remotely via webinar. The feed will show the ASL interpretation and live captioning alongside the webinar speaker.
How it Works
Website: https://sbbc.co/AccessAbility
Where: Access online via webinar province-wide
When: September 2020
Including free education for those with accessible needs
All SBBC webinars are available at a minimal cost – however Community Futures are offering free education for AccessAbility Month through their Entrepreneurs with Disabilities Program.
The Application process for these seminars differs from Small Business BC's usual registration process. Interested clients must fill out an client intake form, as linked below. Applications will be reviewed by Community Futures and will take 3-5 business days to process. Once approval is received, Small Business BC will contact successful applicants to complete the registration process.
---
Darren Dunne Small Business BC
About Small Business BC
Small Business BC provides entrepreneurs with the information and guidance necessary to build a solid foundation for their business. Through a wide range of products, services, education and resources there's a piece that fits with every business. No matter what stage or what skill level, when an entrepreneur finds themselves asking "How do I…?" Small Business BC is the one to call.
About The Presidents Group
The Presidents Group is a network of 25 change-driven BC business leaders who are champions for more accessible, inclusive workplaces. Leaders of businesses of all different sizes and sectors, and business models, are represented and nearly 60,000 British Columbians are employed at the Presidents Group's 25 member organizations.
About Community Futures
Community Futures is the only non-profit organization throughout rural BC with a mandate for small business and community economic development. Our experts offer local assistance from 34 offices throughout rural BC. Community Futures offers a variety of services and tools to help entrepreneurs and small business owners achieve their goals, including business support services, business planning advice, loans and self employment assistance.
About The Office of Small and Medium Enterprises (OSME)
The Office of Small and Medium Enterprises (OSME) in Public Services and Procurement Canada (PSPC) advocates on behalf of SMEs and encourages their participation in federal government procurement.