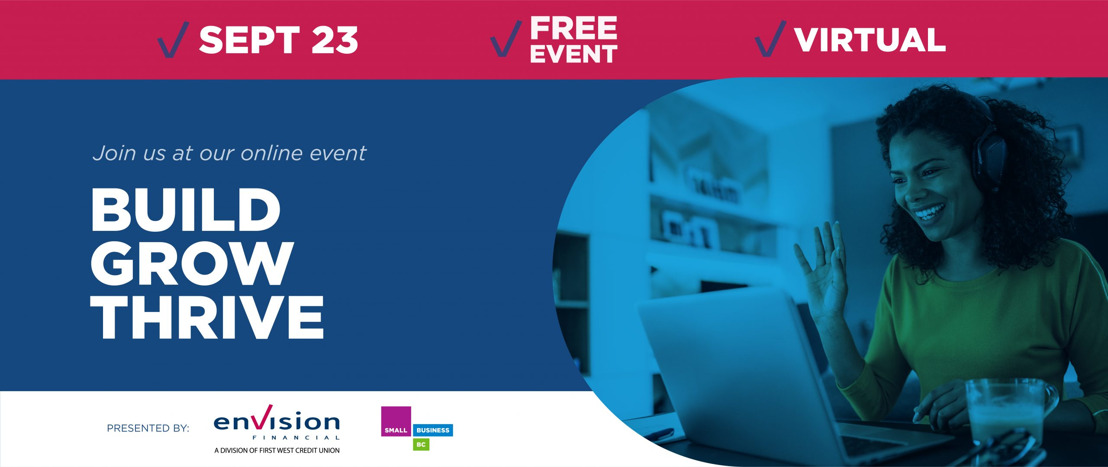 Build. Grow. Thrive. Returns Virtually on September 23rd
September 2, 2020 - British Columbia
Small Business BC, alongside our partners at Envision Financial, is pleased to announce the return of our popular Build. Grow. Thrive. event, a FREE day of education that connects entrepreneurs with the province's leading tools and resources.
Though we can't gather in person, you're invited to join us remotely on Wednesday, September 23rd as we bring our community together to learn, network and share their experiences. We understand the challenges business owners currently face, that's why each session on the day will deliver practical advice tailored toward navigating our "new normal."
Attendees can expect engaging webinars, panel discussions featuring entrepreneurial experts, a virtual tradeshow, and breakout rooms for networking with fellow attendees.
Capacity is limited and these free tickets won't last. Sign up today and don't miss out!
Sessions Include:
COVID-19 Workplace Health and Safety – Presented by WorkSafeBC
Managing Your Cashflow During Difficult Times – Presented by Envision Financial
Market Research: Finding the Trends During COVID-19 – Presented by Small Business BC
Panel Discussion: Growing Your Business – From the Inside Out.
Featuring:
How it Works
Website: https://www.accelevents.com/e/BGT
Where: Access online from anywhere
When: September 23rd, 2020
What Attendees Receive on the Day
Practical Insights from Industry Experts
Our speakers have been there and done that. They're ready to share insights they've gained from a lifetime of entrepreneurial experiences.
Invaluable Networking Opportunities
Opportunities to network with fellow business owners have been curtailed by the COVID-19 pandemic. Mingle with several hundred locally based entrepreneurs in our virtual networking rooms. Build valuable connections that will help your business.
British Columbia's Leading Tools and Resources for Entrepreneurs
Between Small Business BC's educational resources and Envision Financial's best-in-class business banking services you'll finish the day informed and ready to navigate the challenges ahead.
Breakout Rooms
Meet with our speakers in a dedicated space and ask them tailored questions relating to your business.
The Support of a Community
During times such as the COVID-19 pandemic, we are stronger when we come together. Learn from those experiencing similar challenges, hear how they pivoted, and leave inspired to take your business to the next level.
Darren Dunne Small Business BC
About Small Business BC
Small Business BC provides entrepreneurs with the information and guidance necessary to build a solid foundation for their business. Through a wide range of products, services, education and resources there's a piece that fits with every business. No matter what stage or what skill level, when an entrepreneur finds themselves asking "How do I…?" Small Business BC is the one to call.
About Envision Financial
Envision Financial has a network of 21 branches and 16 insurance offices throughout British Columbia. It is a division of First West Credit Union. For eight straight years, Envision has been recognized as one of the 50 Best Employers in Canada by the Globe & Mail's Report on Business magazine. They offer a robust range of financial services for small business including everyday banking, financing and business insurance packages.
Image Gallery